Summary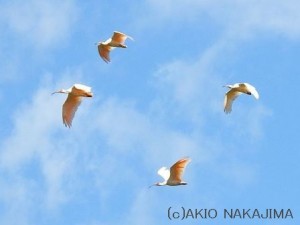 On September 25, 2008, 10 Japanese crested ibises were released in Sado. Japanese crested ibises were flying in the sky of Sado again for first time in 27 years. 6 years have passed since then, and now about 140 Japanese crested ibises are living in the nature of Sado. Some of them were born in the wild. For Japanese crested ibises to live in the wild, feeding places like rice paddy fields and marshes, roosts like Satoyama (farming landscape near the hills and mountains in Japan) are needed. These environments are "secondary nature" maintained by human. Therefore, the fact that terrace paddy fields and fuelwood forests having been abandoned has become a problem throughout the country.
Aiming for "Planning community to live in harmony with Japanese crested ibises," various actions have been taken throughout Sado. This time around, we are going to introduce case studies focused on "Toki Kouryuu Kaikan (Japanese Crested Ibis Exchange Hall)" and volunteer activities conducted by NPOs these days.
The Hub for cooperation among private, academia and government: Toki Kouryuu Kaikan (Japanese Crested Ibises Exchange Hall)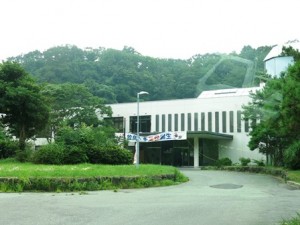 Toki Kouryuu Kaikan is a facility managed by Sado City in accordance with the ordinance established in 2004. The purpose of the facility is, "to aim for planning community to live in harmony with Japanese crested ibises. Contribute to promotion of research and learning on environment, experiential activities and exchange activities, and activate local community in collaboration with local residents, Sado Japanese Crested Ibis Conservation Center and various organizations." (Article 1 of Sado City Toki Kouryuu Kaikan Establishment Ordinance)
Toki Kouryuu Kaikan Address: 1101-1 Niibokatagami, Sado City
It has a large hall with 200 people capacity, conference rooms and an accommodation facility. It also has tools for environment conservation such as boots and sickles. These tools are lent out free of charge. This facility can be used in groups such as school trips of elementary and junior high school students. It is a beneficial facility for people coming to Sado from outside the island for observation and environmental improvement.
Toki Kouryuu Kaikan is not only a hub for general observers but also for private organizations promoting conservation activities and research. A lot of organizations are based in and have their offices in this facility.
Niigata University Toki Nature Restoration Research Center
・Create habitat for releasing Japanese crested ibises into the wild, conduct research through adaptable verification of building reproduction scenario.
Incorporated Non-profit Organization Toki Doki Ouen-dan (supporters)
・Conduct activities with the goal of supporting Japanese crested ibises to inhabit the wild again from the citizen's view point from government.
・Hold study sessions like citizen's college, accept CSR activities by companies, etc.
Niigata NPO Association Sado Office
・As an intermediary, implement environmental improvement project for Japanese crested ibises, run workshops to develop human resources for community planning, provide consultation for NPOs and etc.
General Incorporated Foundation Japan Wildlife Research Center
・As an expert group of living creatures, mainly conduct monitoring of Japanese crested ibises.
General Incorporated Association Sado Institute of Living Creatures
・Hold study sessions about biological surveys for certified rice farmers, pass on the survey results.
・As part of environmental education for children, run Sado Kids Biological Survey Team.
・Program to promote community planning to live in harmony with Japanese crested ibises ― run "Sado Toki Fan Club"
Sado Toki Conservation Group
Sado Island Kamo Lake System Restoration Research Institute
・Conduct research on nature restoration of Kamo Lake and revitalization of surrounding area
・Environmental education activities in Kamo Lake
Sado City Agriculture, Forestry and Fisheries Division Office for Promoting Biodiversity Toki Policy Department
・Established and operating Toki Kouryuu Kaikan
・Provide information related to Japanese crested ibises. Accept study sessions about Japanese crested ibises as in school excursions. Provide activity sites to promote protection of Japanese crested ibises. Train Japanese crested ibis guides.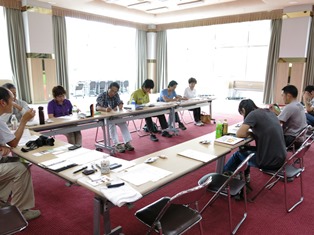 We interviewed organizations located in the hall and heard stories about current situations and issues. Characteristic topics and opinions are as follows.
・More than 6 years have passed since the release of Japanese crested ibises, young birds have hatched and more than 100 ibises are living in the wild. In some places, ibises can be seen frequently. Population of ibises, however, hasn't recovered enough yet and the situation still needs attention. Local residents are getting used to the fact that ibises can be normally found around them. For example, the organizations are seeking reports of ibis siting, however, local residents don't bring reports to them despite they have seen ibises.
・The organizations want more people to engage in the activities, however, participants of events, such as study sessions about living creatures and cutting reeds, are fixed. Residents of the island are of course welcome, however, not just them, more people such as college students from outside the island are welcome.
・The organizations are struggling with management such as raising funds. There is also a need to develop human resources to conduct activities.
Monitoring Japanese crested ibises by public-private partnership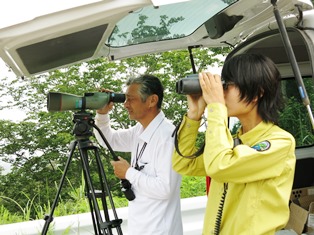 Almost every day, a group consisting of such as the Ministry of the Environment and the Sado Branch of the Public Interest Incorporated Foundation Wild Bird Society of Japan is monitoring sites ibises appear. In the plains, the members of the Wild Bird Society of Japan living nearby watch ibises. From the top of the mountain overlooking a broad range, Active Rangers of the Ministry of the Environment watch the ibises. Liaising with each other via radio waves, monitors in the field and in the mountain check the directions ibises fly to and conduct population surveys.
Weekly observations are open to the public on the website "Released Japanese Toki Information" so that anyone can check the latest information.
At nights, ibises sleep in places such as terrace paddy fields. During the daytime, they go to rice paddy fields and marshes to look for food. Therefore, morning and evening are periods of time ibises move around actively and volunteers watch them early in the morning before they go to work. Like this, volunteers' enthusiasm is supporting the activities in good part.
Coordinating volunteers from outside of the island
Toki Kouryuu Kaikan, mentioned above, support activities for elementary and junior high school students from outside the island such as observation events and workshop on taking care of biotope space. It also accepts training camps for college students. Sado City officials coordinate with fields when visitors observe ibises.
In addition to this, to restore the devastated habitat of ibises, NPOs in the Tokyo metropolitan area are volunteering in Sado. Most of the participants are students and young business people. They are dependable helpers for the aging area and they can have experiences they can never have in their daily city life. Therefore, the activities benefit both sides; local residents and volunteers from outside the island.
Authorized Non-profit Organization JUON NETWORK
Conducting activities aiming for exchange between urban cities and rural areas, preservation of forests and fields. In Sado, as the program named "Island of Toki, School of Forest," cooperating with Niigata University's "Return Toki to the Wild Project" since 2002, continuing Satoyama planning. Satoyama become habitats for released ibises.
Specified Non-profit Organization NICE (Japan International Workcamp Center)
In cooperation with workcamp holding organizations around the world, gather volunteers from around the world, hold workcamps with a volunteer group Moriito at "Furusato no Mori (our home forest) Park" in Ogi-machi Town in the southern part of Sado Island. Aim to restore Satoyama to become also a place of relief to residents.
Muraokoshi (activating village) Non-profit Organization ECOFF
An organization which conducts activities with Muraokoshi volunteer as theme. Most of the participants are college students. In Sado, conduct activities in Iwakubi District where wild Japanese crested ibises remained as the last ones.
Some organizations gather volunteers in urban cities, on the other hand, there is a need to organize the system for accepting volunteers in Sado Island. One of them is "Iwakubi Meeting Space" in the south-eastern part of Sado Island. Through cooperation with residents, university, companies and the government, the former Iwakubi Elementary School closed in March, 2007, has been lent with no charge to the village for the purpose of regional revitalization and communication, d etc. A private organization established by volunteers of the village maintain the facility. And also members of community development corps support this activity. They conduct activities with a touch of event to bring in volunteers from outside the island, such as bamboo lantern events aimed at cutting bamboos grown in the abandoned farmland.
The Satoyama environment where Japanese crested ibises live cannot be maintained without adding human work continuously. While conserving Satoyama is becoming a challenge not only in Sado but also throughout the country, the diversification of actors is required. Diversification of actors to conserve Satoyama can be promoted by approaches such as interaction between urban cities and rural areas. We'd like to keep focusing on actions in Sado.
Category
・Project cooperation/project accord
Theme
・Forest preservation ・Biodiversity/ nature conservation ・Ecotourism ・Social business/CSR
Reported by Hirotaka Ito(KANTO Environmental Partnership Office)
March.2015